Comprehensive Cleaning & Janitorial Services for Peoria IL
Does your office, factory, or medical facility require routine cleaning? Are you or your staff too busy attending to other duties to keep up? Then it might be time to seek professional help! At PHD Services, we offer several janitorial services for Peoria IL. When you hire us, we employ our talented team to clean, disinfect and sanitize every inch of your workspace, so you'll never have to worry about the appearance of your building again. Trust us to transform your facility today!
Who Are Our Services For?
PHD's janitorial services for Peoria IL are available to various individuals, including those in the commercial, industrial and medical markets. Some examples of the kinds of buildings we clean are as follows:
Offices – Keeping your office clean is essential to your employee's productivity and your company's professional appearance. But routinely cleaning every surface takes time, and if that's something you don't have, you can confidently pass the task off to our team.
Hospitals & Healthcare Facilities – Beyond offices, we also dust, sweep, vacuum, mop and provide several other cleaning services to hospitals and healthcare facilities. Whatever areas you assign to us, we'll clean using high-quality products. Thus, you can trust our ability to abide by all health policies and procedures.
Factories & Warehouses – Finally, our professional janitorial services extend to several factories and warehouse-type buildings throughout the area. Our offerings for these kinds of companies include traditional and chemical cleaning. We can also help move machinery as needed.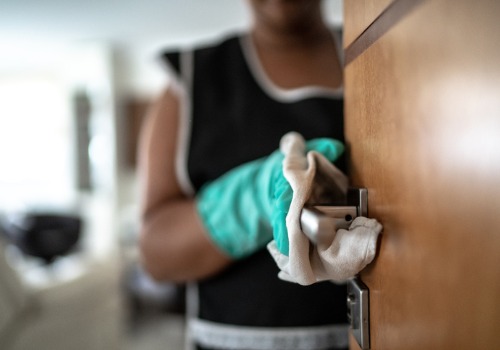 Learn More
At PHD Services, our staff consists of over 200 hardworking employees—each of which belongs to a cleaning crew. These crews are then managed by a Facility Supervisor, who oversees the process for your assurance. Whether you work in a commercial, industrial, or medical setting, you can count on the PHD Services team to provide a comprehensive clean! Call 309-676-5553 to learn more about our janitorial services for Peoria IL, or email us at PHD@phdservices.net. We are located at 519 Abington St. Peoria IL 61603 and proudly serve companies all across Central IL.